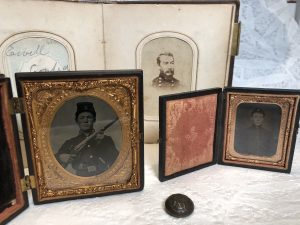 If you are looking to buy or sell antique militaria in MD, come to Frederick Coin Exchange. We are primarily a rare coins and precious metals dealer; however, we also have an extensive knowledge in military antiques and antique firearms. We are interested in buying original and authentic military antiques and antique firearms from around the world. We are active buyers of quality militaria from the American Civil War  through World War II.  We are interested in medals/decorations, groupings, uniforms, equipment, helmets, headgear, swords, knives, daggers, bayonets, personal items, flags, paper materials (such as diaries and photo albums), etc. We specialize in German and American World War I and World War II items.
Whether you are a serious hobbyist or novice collector, we deliver items seldom offered elsewhere.
All items come with a Lifetime Guarantee, so please shop with confidence, knowing that we stand behind all items.
How it works:
Search your house, safes, or bank safety deposit boxes for any unwanted military antiques or antique firearms.

Bring in your items to be evaluated. Please contact FCE to arrange an appointment with the Militaria & Firearms Expert. 

Our Militaria & Firearms Expert will evaluate your items by rarity, condition, and demand for FREE.

We make you an offer, and if accepted, you will be paid on the spot.
Please Note: We do NOT purchase items from anyone under the age of 25.
NOTICE: Due to the COVID-19 Pandemic, we are currently not offering In-Person Militaria Appraisals. Should we resume regular business hours and practices, Bob, our Militaria expert, will be available for in-person appraisals on the first Thursday of every month. Please call 301.898.2863 for more information.